30 Jan
A treat for all marmalade lovers

Buns for breakfast
I am so pleased to find I made plenty of my quadruple peel marmalade last year. It will keep me going for the time being.
I know very well that January is the month for making marmalade. The Seville oranges have arrived and it is always set in my mind that I will spend at least a day making this great preserve at the very beginning of the year.
Sadly not this year. As I am still on the slow recovery from an operation and it will be well into February now until I have  that rolling boil going not to mention the aroma of Seville oranges pervading the house.
There are many ways to enjoy marmalade as set out in the post Breakfast and Beyond last January.
For just now I decided to make some marmalade buns – known as muffins in the USA – with my quadruple peel. They are the sort of bun with a pocket of marmalade in the centre.
They can be enjoyed for breakfast, tea time, or anytime –
just grab and go.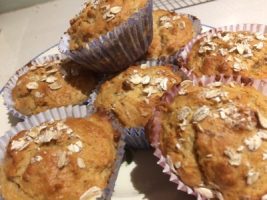 MARMALADE BUNS
1/2 lb ( 225g) self raising flour
5oz (140g) castor sugar
1oz (porridge oats) keep some aside for sprinkling
Zest and juice of one orange
2 eggs
 2 1/2 oz ( 75g) melted butter
5oz (140g) plain yogurt
Milk
2 heaped tablespoons of your preferred marmalade  ie thick, thinly cut, rindless,
quick and easy….makes 12 buns
How to make
Pre heat oven to 200C/gas 6
Grease bun tin or use 12 paper cases
Combine flour, sugar, oats in one bowl (save some oats for the sprinkling on top)
Combine eggs, yogurt, orange juice and zest, butter in second bowl
Mix the wet ingredients into the bowl of dry ingredients. Combine by gently stirring. Add some milk to give dropping consistency if necessary
Spoon one tablespoon of the mix into each bun case
Add one teaspoon of marmalade into centre of each case
Top with another spoonful of mix and sprinkle oats on top for decoration
Bake for 15 to 20minutes
Leave to cool on rack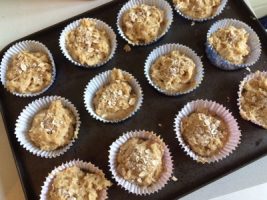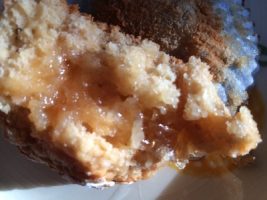 One thing I shall have to miss this year is entering my marmalade for the annual Dalmain marmalade awards. Do not forget to download the entry form and send your entry off for this competition which should arrive by the 10th February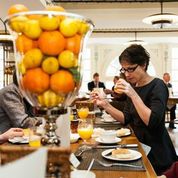 Judging the Dalmain marmalade entries
happy new year
 Pippa