20 Jan
With a special invitation to those living in the North of England
Now to the best competition in the preserves calendar.
This week I am delighted to feature the Tenth Year of the Dalemain Marmalade Awards
What makes this the fun part of making preserves is that all are invited to submit their homemade marmalade to fit a list of categories. There is also a label competition and the event culminates in a weekend Festival. First timers will receive helpful feedback.
You will find the entry form on their website (see link below). There are guidelines, a wonderful list of categories of marmalades to choose from and, not to be missed, are the ten tips for entrants from Jane Hasell-McCosh.
I would love to hear if, when you have made your marmalade and sent it off,  you could please tell us about your choice of entry and any extra details or changes you may have made to the recipe.
Now to prepare your entry for the Dalemain Homemade Marmalade Competition
The start
Start by deciding which type of marmalade(s) you are going to submit from the exciting options in the list of categories.
The choices are conjure up brilliant picture of all kinds of marmalade makers. Make sure you read the detail needed for each category on the entry form
1 SEVILLE ORANGE MARMALADE one of the aristocrats in the marmalade world
2 MILITARY MARMALADE from pirates to Generals and members of their families
3 DARK AND CHUNKY the darker and chunkier the better
4 CLERGY MARMALADE all denominations welcome
5 CHILDREN'S MARMALADE for those aged 13 and under with a little help from an adult. Open to schools,youth groups and individuals
6 MAN-MADE MARMALADE for the many 100's who make marmalade
7 THE 10th ANNIVERSARY WITH INTERESTING ADDITIONS so list your interesting additions
8 FIRST TIMERS take the opportunity and you will receive feedback
9 INTERNATIONAL & COMMONWEALTH MARMALADE a special invitation to those in the commonwealth countries
10 MERRY MARMALADE – MARMALADE WITH ALCOHOL just add your favourite tipple
11 CAMPANOLOGIST'S MARMALADE to accompany the peel of bells which will ring out at the beginning of the 10th anniversary
12 ANY CITRUS MARMALADE any combination of citrus fruits
13 PEERS AND POLITICAL MARMALADE from aspiring politicians
14 A MARMALADE MacNAB some experimentation called for a marmalade to accompany fur,fish or fowl
You will find  that many of the recipes to fit these categories in Let's Preserve It or you may even wish to make further adaptions.
Next
Purchase the best ingredients for your marmalade. Seville oranges are now in abundance in the markets and are alongside grapefruits, lemons, and limes.
Then
Get yourself ready.
Do not miss out on studying Jane's Tips on the competition website.
Choose a quiet time for youself in the kitchen  and a time when you are assured of not being uninterrupted.
Set out all your equipment and ingredients.
Make space for your pans, ladles, funnels etc and  remember that you can never have too many jars.
Finally GO
Enjoy making your marmalade and ensure that you make enough to last the year.
I always find great satisfaction in making homemade marmalade and see it as a labour of love in preparing the fruit to my liking with the aroma of the fruit pervading the kitchen.
Once you have finished post or leave your entry at one of the collection points which has been set up to take entries before the 15th February.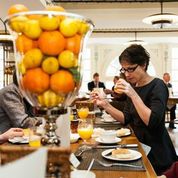 Remember that after all the hard work of the making and the judging,  that the sum raised from the charge for entering is donated to and shared between three charities.
If you live in the north of England and are able to visit the Dalemain Marmalade Festival on 28th February and 1st March, then lucky you!!!
Have Fun
Pippa
http://www.dalemainmarmaladeawards.co.uk/cms/competitions/homemade-awards.php