12 Dec
A guest post from Ave Maria Farm in Seville
AS I LOOK FORWARD TO THE START OF THE MARMALADE SEASON, I AM DELIGHTED TO HAVE RECEIVED THIS POST FROM AMADORA GAHONA, the daughter of the owner of the AVE MARIA SEVILLE ORANGES FARM. THE OWNER is AMADORA FRAGA and pictured here
'This is the story about our Sevilles oranges and it expresses the sentiments and commitment we feel for our job.
The bitter orange tree is our Christmas tree. In the beginning of December, the oranges begin to light up with their rich red colour and they illuminate the farm, beautiful and joyous, on Christmas day because there are thousands and millions of shining oranges hanging on the green trees.
We love our farm and it is a family business where we are all involved. We are now the fourth generation cultivating it. The production, the packing and the sales are carried out with care so that you, in England, enjoy an aromatic, savoury, natural marmalade all the year.
We so appreciate the letters sent to us from England expressing thanks for our oranges! and so wish you to know that the oranges here are produced in our groves organically. That is to say  in the traditional way and from this area, in particular, which is  known as the Alcores of Seville.
Due to the texture of the earth and its particular climate, it yields an especially succulent fruit.
The first orange trees were planted on this farm in 1867 as recorded on our antique front gate. We still have more than a thousand trees in full splendor.  From the outset and the first planting, the farm has always used natural cultivation which extends the life of the trees for hundreds of years… the same as what the consumption of organic products does for the people. But all of this is thanks to you, the people of United Kingdom, who have appreciated and promoted the marmalade from our oranges, the ones they call "Sevilles"… from Mairena del Alcor.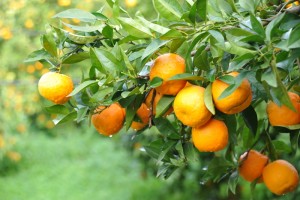 And now we have a new orange year, a harvest year that may be called as spectacular. The weather has been wonderful this year, despite the intense heat made in May with temperatures up to 40 degrees. The hot-cold symbiosis, the marriage rain and sunshine have enabled the growth of a bitter orange size, weight and enviable colour.
We are happy because this is the best gift we could give our friends in the United Kingdom'.
Amadora Gahona Fraga, Ave Maria Farm, P.O. Box 34, 41510 Mairena del Alcor, Seville, Spain
WE LOOK FORWARD TO the arrival of SEVILLE ORANGES IN OUR MARKETS AND IN JANUARY SHALL HAVE A FURTHER POST about the ANNUAL DALEMAIN MARMALADE COMPETITION AND AWARDS and also a post about MY MARMALADE MAKING
Written on December 2, 2014 at 11:00 am, by Philippa Cardale
Categories: Citrus, Facebook, Food Sourcing, Get Involved!, Homepage, How to Make It, Jams and Marmalades,Marmalades, Post to Facebook, Share on Facebook, Share to Twitter, Winter