10 Apr
Cranberry and Orange hot cross buns, chocolate Easter cake and Simnel buns
Hot Cross bus are traditionally made to be served on Good Friday. The story  goes that the  first buns were made by a 14th century monk who then distributed them to the poor  on Good Friday.
So it really bothers me is to see these sweet and spicy buns on sale at Christmas.
The story also goes that Queen Elizabeth the first  was equally annoyed to see the sale of these buns all year round. So a decree went out that they should only be sold at Easter, for burials and, would you believe, at Christmas! So be it.
Well there is no question that they are delicious served homemade and warm with butter melting into the bun and marmalade or your favourite preserve to top it.
This year while I was playing around in the kitchen again, I decided to add some cranberries and orange zest to my buns.
ORANGE AND CRANBERRY HOT CROSS BUNS
500g strong white flour
3 tsp mixed spice
Zest and juice of 2 oranges
1 tsp salt
50g  butter
50g golden castor sugar
1 packet (7g) dried yeast
1 egg
300 ml milk
125g dried cranberries
FOR THE CROSS
2 tbsp flour
water
any jam (ideally apricot)
…..
Rub butter into flour in a large mixing bowl and add salt and mixed spice.
Add sugar, orange zest, juice and yeast to the flour.
Add  the egg and milk  and mix to a dough.
Add cranberries and knead for 10 minutes
Place in a greased bowl and cover with clean T towel or clingfilm and leave in a warm place to rise for an hour
Knead again for 10 minutes and divide dough into 12 equal sizes, making each into ball using flour covered hands
Place on baking tray, loosely covered with cling film and leave in warm place to rise for 40 minutes
Make paste with flour and water and make strips of pastry to decorate a cross on buns
Bake at Reg 5 ( 190c/170c fan ) for 20 minutes till golden brown
Make glaze with jam and hot water and brush warm buns
The buns are best eaten the fresh and certainly the same day. If you do not think you will manage to get up sufficiently early on Good Friday, then make them beforehand and put them in the freezer. Pull them out with time to spare on the day and warm them in the oven or split them in two and toast.
Other Variations on Easter Fare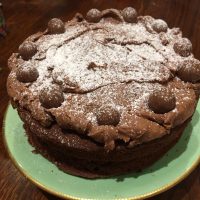 For family members who are not keen on marzipan and traditional Simnel cake, try a Chocolate Easter cake and use maltesers instead of marzipan for the eleven apostles
Make Simnel buns with a marzipan layer in the middle of each bun.
http://www.bbcgoodfood.com/recipes/3277/simnel-muffins
Very Happy Easter
Pippa