25 Oct
A great accompaniment to curry
What  do you do with a pumpkin in October?
I have great memories of the time when we lived in New York. In October, we generally managed a trip to New England to see the stunning  fall colours together with roadside stalls piled with apples and pumpkins from the farms.
I know many will associate pumpkins with Halloween. It can be a fun time and in the time I lived in the States, I loved seeing the youngsters in their costumes and all the excitement that getting dressed up brings. I also recall the occasion  that my daughter and her school friends, all in full costume, visited a residence for the elderly to  sing to them and parade their outfits and the wonderful thrill on the residents wrinkled faces.
 I am just not so impressed with the hoards of candy …. and pillow cases into which they are gathered. 
It is just as well that there are other ways of enjoying pumpkins.
There are a number of recipes for pumpkin jam in Lets Preserve It but my aunt who had gathered up so many recipes from our old cook books seems to have missed a trick by not finding a recipe for Pumpkin chutney. So to redress the omission I have added my version.
 This is easy, delicious and makes a great accompaniment to all the usual cold meat and cheese platters.
However as an accompaniment to curry, it excels and is also a good deal less expensive and messy to make than the mango alternative.
PUMPKIN CHUTNEY
450g  (I lb) diced pumpkin flesh
2 tbsp finely chopped onion
2 tsp grated ginger
½ tsp chili flakes to taste
2 cardamom  seeds ground
1 tsp freshly ground pepper
1/4pt (150ml) cider vinegar
225g ( ½ lb sugar)
Put all the ingredients with the exception of the sugar in a preserving pan and simmer for 40 minutes.
Add the sugar and stir until dissolved.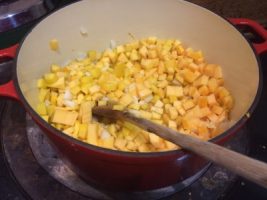 Simmer for an hour and stir every now and again.
Pot into sterilised jars and cover.
Allow three to four weeks to mature before eating.
Makes about four medium jars of chutney
Pippa