7 Dec
The preserve that Beryl missed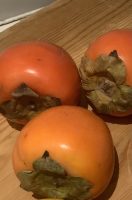 When presented with a few persimmons recently, I decided that in addition to enjoying the fresh fruit it was worthy of moving on and making these fruits into a preserve. I flipped through Let's Preserve It looking for a recipe for jam or chutney. However I was to discover that persimmons were obviously not to be found in that corner of North Cornwall when Beryl was writing fifty years ago.
I did however find some help online to produce some truly delicious jam.
I thoroughly recommend this preserve. Discovering that Persimmons are high in pectin, with the online ideas and using my preserving skills I came to the very easy recipe below.
The persimmons had been arrived in my fortnightly DROPBOX (see below) a service that gathers up some unwanted though totally edible fruits and vegetables. They are unwanted due to either a surplus or an odd size or blemish.
Opening my fortnightly box is as exciting as digging in to a stocking at Christmas.
Here is my very straightforward and easy recipe for Persimmon jam.
1lb (450g) Persimmons 
6oz (180g) Sugar
1 Lemon 
Wash and peel persimmons and chop into chunks
Save the skin chop into small slices 
Put in a pan with zest and juice of lemons.
Blitz and boil for about15minutes and remove from heat.
The fruit will give off water and juices. Pot into sterilised jars and cover.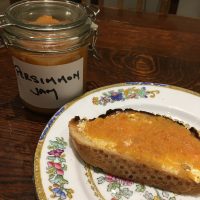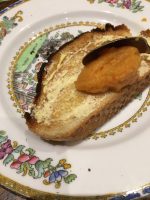 Yummy
Dropbox www.Dropbox.co.uk
Www. Oddbox.co.uk