5 Mar
Kitchen garden, patio or window sill -now is the time to sow.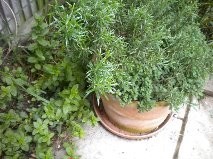 I can just feel another self-sufficiency moment coming on. Last week I baked some fabulous ciabatta bread; the first such bake for a very long time. Fabulous. This week I am sowing some herb and vegetable seeds. Whether your gardening arrangements be – kitchen garden, patio or windowsill now is the time. Herbs are a great place to start. Off I go starting some basil seeds, tomatoes and courgettes indoors and I cannot wait to see their little shoots peeping and waving at me out of the soil.
'Here I am growing !!! then later you can eat me, cook me  and make me into all your preserves'.
Gardening never ceases to amaze me. Take the mostly pathetic looking seeds, treat them well and very soon you have acres of flowers, vegetables and fruits and herbs. Now is the right moment to indulge your self-sufficiency and have a go.   If you have a heated greenhouse or if , like me, and  you can find a spot inside your home with enough warmth (around 18C) and light or window sill you ready to start sowing.
HOW TO
There are a number of websites with helpful instructions and a couple are listed below and but  there are some  key points to remember when sowing your seeds and starting indoors
* Choose  exactly what you want to sow and enjoy. Maybe limit this to a realistic number to allow enough time for the care and space required.
* Use a good fine potting compost. Garden soil is too heavy.
* Find suitable containers to plant the seeds. Yogurt or plastic pots are great but make small holes in the bottom for drainage. An alternative is to use biodegradable cups – a loo roll also works well – which can be transplanted directly into the garden or patio tubs.
* Ensure that there is plenty of light. Both daylight and artificial lights.
* Find a warm site around 18c. Set the seeds near a radiator, a Aga, over a refrigerator or freezer
* Do follow carefully the instructions on the packet
RHS Seed: sowing indoors  `  https://www.rhs.org.uk/Advice/Profile?PID=501
Gardening Channel  http://www.gardeningchannel.com/great-diy-ideas-for-seed-starting
Pippa